SAN JUAN, Puerto Rico May 12, 2018/Canna-B News/ —Little is known about whether medicinal cannabis/marijuana is being used clinically to any significant degree.
Using data on all prescriptions filled by Medicare Part D enrollees from 2010 to 2013, a study conducted in 2016  found that the use of prescription drugs for which cannabis could serve as a clinical alternative fell significantly, once a medical cannabis/marijuana law was implemented.
National overall reductions in Medicare program and enrollee spending when states implemented medical cannabis laws were estimated to be $165.2 million per year in 2013.
The availability of medical canabis has a significant effect on prescribing patterns and spending in Medicare Part D.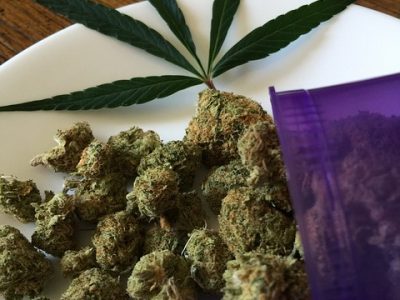 Legalization nationwide of medical cannabis is associated with a decline in the use of traditional prescription drugs, according to data published on the scientific journal Health Affairs.
A relationship was found between medical cannabis laws and physician prescribing patterns. The study was conducted in 17 states over a 3 year period (2010-2013).
The study assessed patient's consumption of and spending on prescription drugs approved under Medicare Part D for 9 conditions: anxiety, depression, glaucoma, nausea, pain, psychosis, seizures, sleep disorders, and spasticity.
When a medical cannabis law went into effect, prescribing for FDA-approved prescription drugs under Medicare Part D fell substantially. It is estimated that Medicare Program and it's enrollees spent $165.2 million less in 2013 as a result of changed prescription behavior.
The study investigators concluded that patients respond to medical cannabis legislation as if there are benefits to the drug. Which suggests that Schedule I status of cannabis/marijuana is outdated.
A survey conducted by Rand Corporation, reported medical cannabis patients often reduce their use prescription drug therapies, particularly opioids, when they have legal access to cannabis/marijuana.
The survey also showed the opioid abuse and mortality was lower in jurisdictions that allow medical cannabis access as compared to those where it's still illegal.
Prescription drug prices continue to climb, patients appear to be seeking alternatives medicines that have become easier to get legally nowdays.
Medicinal Cannabis saved Medicare about $165 million in 2013, if medical cannabis/marijuana was available in more jurisdictions, Medicare Part D spending would decline and the results would be visible within 3 years.
Jurisdictions like Puerto Rico, where Cannabis can be prescribed for medical therapy must keep a close eye to the relation between health conditions in Puerto Rico, prescribed drugs costs and the use of medicinal cannabis for Medicare Part D enrollees.
DISCLAIMER: The information and links contained in this website are provided for general information purposes only; it does not constitute legal or medical advice.
Although we endeavor to keep the information up to date and correct, Canna-B makes no representations or warranties of any kind, express or implied, about the completeness, accuracy, reliability, suitability or availability with respect to the website or the information, products, services, or related graphics contained on the website for any purpose.
Therefore, any reliance you place on such information is strictly at your own risk.